Commitment To Graduate Ceremony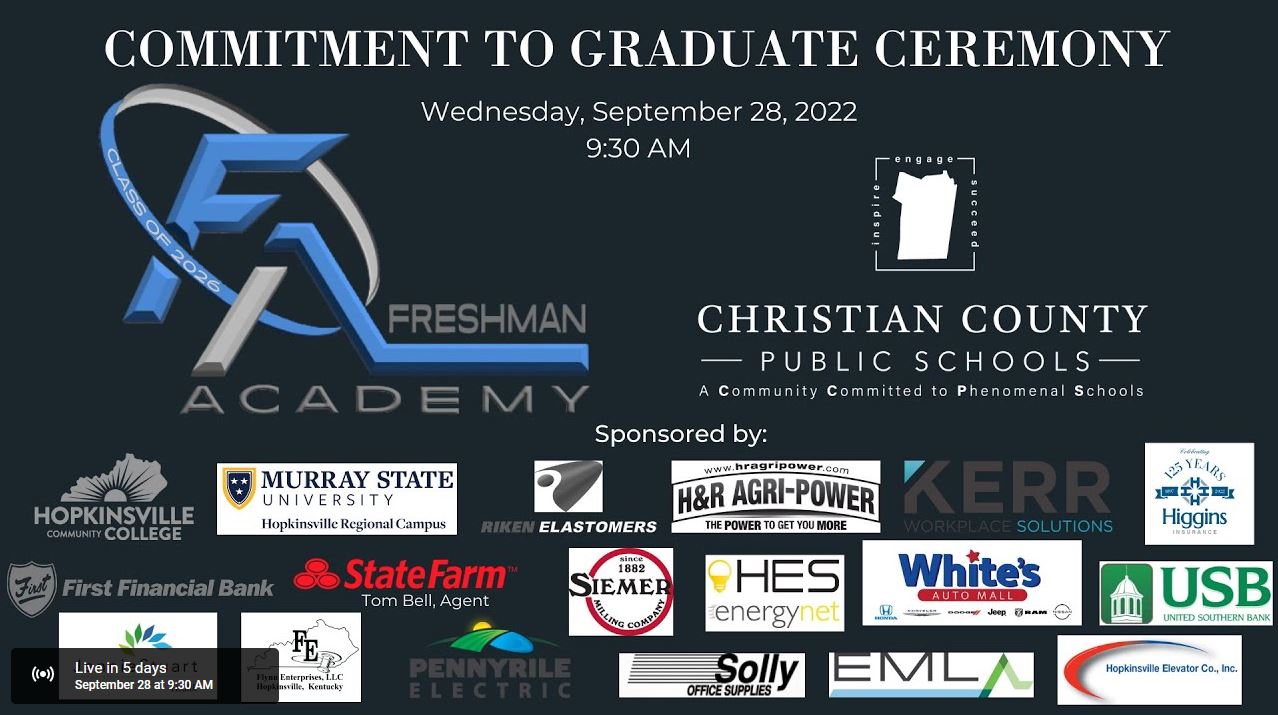 ---
HOPKINSVILLE, KY (September 22, 2022). The Freshman Academy of Christian County High School, Hopkinsville High School, and Virtual Learning Academy will host the first-ever "Commitment to Graduate" ceremony on Wednesday, September 28, 2022, at the Stadium of Champions. The ceremony will begin at 9:30 AM and will be live streamed for parents and family to view. No visitors or guests will be allowed to attend the ceremony. The inaugural "Commitment to Graduate" ceremony is a charge to the Class of 2026 to remain in school and to graduate in four years.
"With the induction of the Freshman Academy into our schools, we felt it was a great time to start this new tradition," said CCPS Superintendent Chris Bentzel. "The intent of the ceremony is to instill within our students the importance of graduation. We want them to be in these same seats four years from now."
More and more school districts across the country are hosting "Commitment to Graduate" ceremonies for their freshman class in order to encourage students to stay in school. The ceremony will include a time for students to pledge their commitment to graduate in four years with their fellow classmates. Guest speaker, Ron Hicks, will deliver the commitment speech. All students will receive a t-shirt as well as solidify their commitment by signing their names to their school's "Commitment to Graduate" banner. Several business and industry partners from the community have come together to sponsor the event for the students.
The ceremony will be available for live stream at
https://youtu.be/LEO57JrXFQY
. The link can also be found on the district website and Facebook page. In case of inclement weather, the ceremony will be held on Thursday, September 29, 2022.