Student Board Members Introduced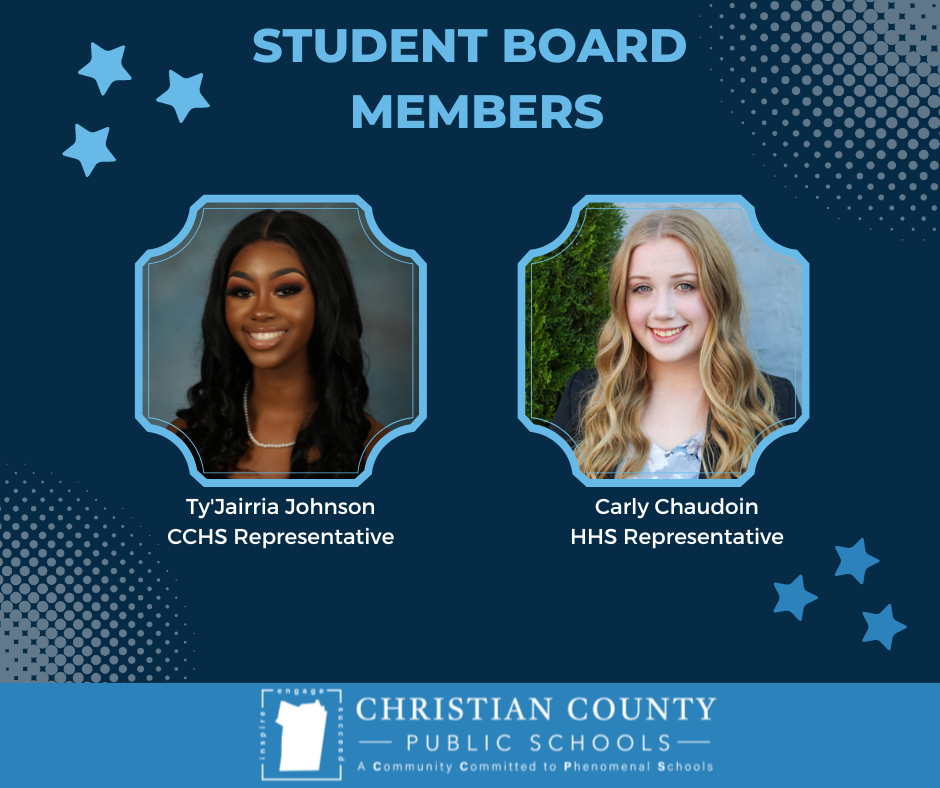 ---
FOR IMMEDIATE RELEASE
November 4, 2022
Media Inquiries: Please contact Johnna Brown
270-887-7000 / Johnna Brown@christian.kyschools.us
Christian County Schools Announces Student Representatives to Serve on Board of Education

HOPKINSVILLE, KY (November 4, 2022). At Thursday evening's Board meeting, Christian County Public Schools announced Ty'Jairria Johnson and Carly Chaudoin as the two student-elected representatives to serve on the Board of Education. Chosen by their peers at each high school, the students will attend monthly Board meetings, attend official gatherings and events, give Board presentations and answer questions from Board members during Board meetings. The students are non-voting members and will not participate in closed-session meetings.
"We are overjoyed to welcome these two young ladies to the Board," said CCPS Superintendent Chris Bentzel. "Our students need to know they have a voice in this district. As stakeholders, students are extremely important and incorporating their perspectives into the decisions we make is a crucial piece to carrying out the mission of Christian County Public Schools."
Ty'Jairria is a senior at Christian County High School and the daughter of Tierra Chester and Anthony Johnson. She is active on the Student Council, Superintendent Advisory Council, the Minority Student Union as well as many student clubs. She also serves as manager for the Colonel Football and Basketball teams. After graduation, she plans to attend Tuskegee University majoring in Biology as a pre-med student. She is currently employed as a co-op student at Christian Care Communities.
Carly is a senior at Hopkinsville High School and the daughter of Bill and Brenda Chaudoin. She is an active member of the Student Voice Committee, Student Council, Superintendent Advisory Council, KYA, and several other clubs and organizations. Carly is a four-year member of the Lady Tiger Volleyball team. After graduation, she plans to seek a degree in a career in which she is serving others, in ministry, administration, education or working for a charity.
Christian County Schools is one of 15 districts in Kentucky to have student representatives serving on their Boards. Miss Johnson and Miss Chaudoin will be sworn in at the November 17 Board Meeting and will serve through the 2022-2023 school year. Student representatives from each high school will be elected to serve on the Board each year.