Rotary IMPACT Scholarship Signing Day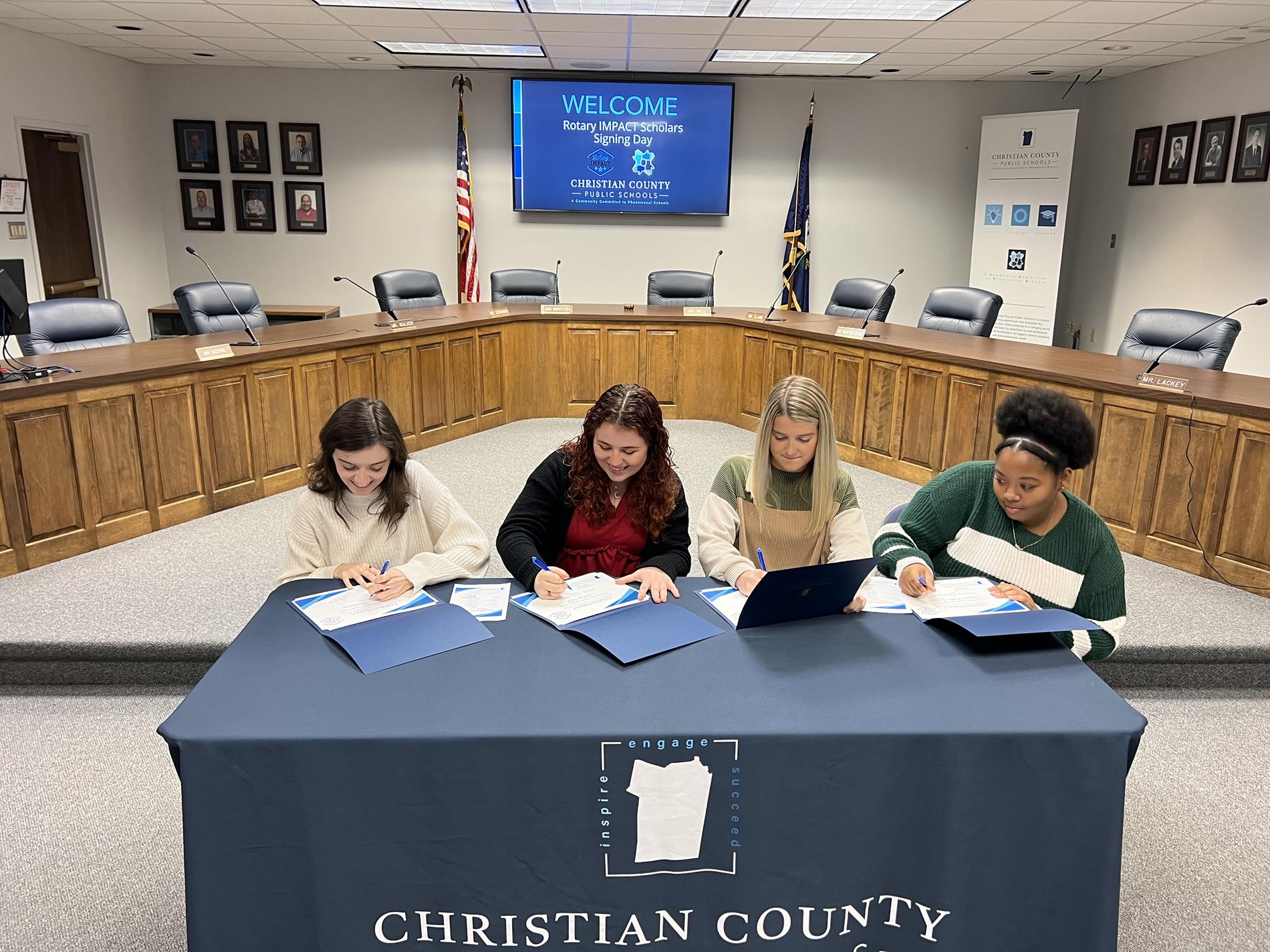 ---
Christian County Schools Hosts Inaugural Signing Day for Rotary IMPACT Scholars

HOPKINSVILLE, KY (November 2, 2022). Christian County Public Schools in partnership with Hopkinsville Rotary, Murray State University, and Hopkinsville Community College hosted the inaugural Rotary IMPACT Scholars Signing Day on Wednesday morning. Four students, two juniors and two seniors at Murray State signed commitments to finish their post-secondary degrees and return to Christian County Public Schools as educators with CCPS. In exchange for the commitment to teach in CCPS, the Hopkinsville Rotary IMPACT scholarship will allow the students to graduate debt free with an undergraduate degree in education.
"Being a Rotary Impact Scholar means I have the opportunity to continue my education to help shape and inspire future generations in Christian County Public Schools," said Rotary IMPACT Scholar Taylor Butler-Gilmore. "I will not have to put any added burdens on myself and my family to help put me through school."
Rotary IMPACT is a new scholarship program designed to build upon the Rotary Scholars program by identifying students in career pathways with the incentive to return back to Christian County. Students who would like to become educators will be identified in high school and will attend Hopkinsville Community College as a Rotary Scholar for two years. The final two years of post secondary study will be through Murray State's education program.
Beverly Fort, teacher recruiter with Christian County Public Schools said creating a teacher pipeline is crucial to address the national teacher shortage. "We know there are students whose dream is becoming a teacher. Our goal is to identify those students early in high school and set them on a path for success in reaching their goal and ultimately coming back to be educators in the same school district who inspired their dreams. With the help of our partners such as Hopkinsville Rotary, HCC and Murray State, we are helping turn that dream into a reality."